I have been in the mood for Thanksgiving for a couple of months now.  I don't LOVE Halloween so I tend to limit the Halloween decor.  However I do enjoy decorating for fall.
Today's project is very easy.  All you will need is a plain Medium sized glass block.  I got mine at Hobby Lobby, on sale and with my 40% off coupon it was only $5.  Some random fake flowers, yarn,  and some vinyl.
Put it all together and this is what you get,
The little scarecrow I got from Wal-Mart a couple of years ago and just broke off the long pick.  All you have to do is put the flowers and scarecrow in though the little opening on the top.
Then wrap it in yarn.  I am kind of loving the orange and purple together this year.
Lastly, cut out your vinyl.  You can just use scissors or one of those fancy cutters if you are lucky enough to have one.
Along with another new month, we have another new holiday to anticipate!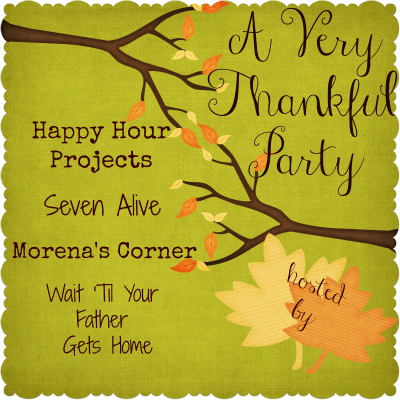 The Very Thankful Party will run from November 1st-23rd (hello, Black Friday!). We invite you to share all of your Thanksgiving related posts including recipes, crafts, and projects! As long as it has something to do with Thanksgiving or being thankful (and of course is family friendly) it's fair game!
As usual, the party button is located in my sidebar. It's not a requirement to display it, but if you'd like to add it to your post, sidebar, or hall of fame party page…go for it! The more participants in the party, the merrier! Once you link up at one of the host blogs, your link is visible on all four blogs. I'll even add it to my Holiday Ideas menu after the party closes, so we can be inspired and thankful all year long.
We're so excited to see what you're working on this month to prepare for Thanksgiving! As the mood strikes us, each of us will share some of our favorite features as well!
Happy linking & Happy Thanksgiving everyone!