Thank you all so much for all the kind comments last week and all the well wishes.  This week has seemed to fly by.  Kids have been getting sick and better then sick again.  That's the way it goes at our house around and around. Many of you are noreply commenter's so I couldn't respond to your comments, so I hope you all read this. 🙂
Thank goodness it's party day.  I could use the inspiration and pick me up.  If y'all  missed it I posted a No-Sew Bean Bag tutorial this morning.
Now lets take a look at a few BELLES of the ball from last week.
Craft Quickies ~ Romantic Stitched Wool Felt Headband
Diana Rambles ~ Abraham Linco Bento
Etcetorize ~ DIY Lacy Top
Pinkie for Pink ~ Cookie Cutter Heart Painting
Our most viewed link from last week was:
Fluster Buster ~ Vick's VapoRub WWII Tips and Trick
Y'all totally knock my sock off!
go ahead and grab yourself a Featured Button!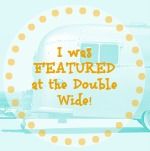 I want to see everything you have to link up! 
Old projects, new posts, giveaways, recipes, crocheting, any and everything.  However please no shops. 
 If you have more than one thing to link up, even better.  
Here are the very simple rules.
1.  Please keep it family friendly.
2. Please link back or grab a button so others can share in the fun.
3. Have fun, be inspired. Try to visit the 2 links ahead of you.
If you would like an e-mail reminder about the party let me know in the comments. Make sure you leave your e-mail address with your comment. I will happily add you to the list.