Welcome back to party day!!  I had said that I was going to take 2 weeks off, but to be honest I really missed party day. So we are back at it today.
Last party day we had a very special link up to help raise money for the victims of the Sandy Hook Community   I was so excited that Kelley from The Grant Life came up with the idea!  I along with several other bloggers committed to donating $.05 for each link to the party.  Enough of us committed to make each link worth $1.00 and enough of you linked up to make our collective donation just over $900! How amazing is that?!  Thank you all so much for linking up and helping to make this possible.
It was kind of hard to pick some features from that many links, and you are all winners for linking something up!  But I did come up with a few BELLES of the ball to show you.
Creative Passage ~ Scrabble Names
Love Bug Living ~ DIY Canvas Photos
Mom on Time Out ~ Homemade Gum Drops
Vixen Made ~ Kids Firefighter Jacket
Pitter And Glink ~ Mesh Snowman Wreath
Like I said AMAZING!  There is no most viewed link this week because it was a joint link party.
Y'all are AMAZING  go ahead and grab yourself a Featured Button!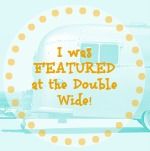 I want to see everything you have to link up! Old projects, new posts, giveaways, recipes, crocheting, any and everything.  If you have more than one thing to link up, even better.  Here are the very simple rules.
1.  Please keep it family friendly.
2. Please link back or grab a button so others can share in the fun.
3.  Following would be nice. (but don't feel you have to)