Here are a look at the BELLES  of the ball from last weeks party.
Once Upon a Sewing Machine~Toddler Peasant Dress
I love this little girl and her dress!!  The pattern and tutorial provide are wonderful, makes me want to break out the sewing machine!
Becoming Martha~ Mini Cheesecake Stuffed Chocolate
MMmmmm chocolate and cheesecake…., need I say more?!?
Our Pinteresting Family~ Stereo Cabinet into Toy Box
I love that they took an old stereo cabinet that wasn't being used any more and turned it into a toy box.  So clever!
Not So Super Mama~Starbucks Pumpkin Scones
Pumpkins is seriously one of my very favorite things!  YUMMY!
Happy Hour Projects~Owl Stuffie
This little Owl would be perfect of little stocking stuffer or birthdays or anything.  The pattern is free and they are super easy nothing could be better.
The most viewed link of the week is:
Sweet Little Bluebird~Pumpkin Pie Tortilla Rolls
Have I ever told y'all how much I adore pumpkin pie??!!  These look fantastic no wonder you guys were checkin' it out!
Y'all are AMAZING  go ahead and grab yourself a Featured Button!  Face Book Features, make sure you get a button too.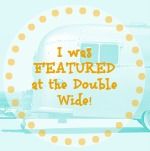 I want to see everything you have to link up! Old projects, new posts, giveaways, recipes, crocheting, any and everything.  If you have more than one thing to link up, even better.  Here are the very simple rules.
1.  Please keep it family friendly.
2. Please link back or grab a button so others can share in the fun.
3.  Following would be nice. (but don't feel you have to)