Hey, hey party people!!  I hope you are all having a wonderful week so far!
We have been having a fun week so far.  We made easy fall decorations and a fun mod podge fridge magnet.  We also have a fantastic giveaway going on.  A Crafters Dream Giveaway you can enter for it here and then after you enter you can hop around to 50 other blogs all having amazing giveaways too!  It going to be open for a while because you are going to want to enter each giveaway!  Speaking of giveaways we are going to have another fantastic giveaway from Seventh Generation Cleaners on Friday, make sure you come back for that one.
Are y'all ready for Halloween?  Starting Sunday I'm teaming up with a few other bloggers to have a costume contest.
Remember to come back and link up your costumes, of course there will be a prize for the best costume!
With that being said I think we need to see some Halloween BELLES of the ball from last weeks party.
Oh Boy, Cato!~Halloween Footprint Ideas.  Seriously how cute are these footprint cards?!  Love them.
Toqua's Crafts~Pop Up Bat Card.  This is such a fun idea and there is a great tutorial so you can make your own pop up card.
Capital B~ Super Simple Halloween Countdown  Such a cute idea!  Easy and perfect for little ones to help with.
Quilt Doodle Doodles~Something Wicked This Way Comes  Wouldn't this quilt block make the cutest little Halloween pillow or even just in a frame would be adorable.
Mandy Made~Wummer Women Costume  Because I just couldn't resist I HAD to show you this costume.  This little girl is beyond adorable and looks ready to save the world!
The most viewed link last week was:
Petals to Picots~ Crocheted Candy Corn Pattern.  These are so cute, they would be perfect to decorate with and they wont give you any cavity's!
Y'all are AMAZING  go ahead and grab yourself a Featured Button!  Face Book Features, make sure you get a button too.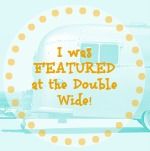 I want to see everything you have to link up! Old projects, new posts, giveaways, recipes, crocheting, any and everything.  If you have more than one thing to link up, even better.  Here are the very simple rules.


1.  Please keep it family friendly.
2. Please link back or grab a button so others can share in the fun.
3.  Following would be nice. (but don't feel you have to)