Hello, Hello.  I hope every one's week is going great so far.  I have a couple of sick kiddies so I'm going to keep it  short this week.
If you missed the happenings here at the Double Wide this week. On Monday I showed you my new crocheted owl Professor Owl-lex, Tutorial Tuesday was how to make a Halloween Spider Wreath, and Wednesday was all about the learning games we like to play.
Now on to the party.  The BELLES of the ball from last week are…,
Turtles and Tails ~ Twine Tweak.  Love the new addition that was put on this adorable stool.
Bird on a Cake ~ Frankenstein's Monster Cake.  Oh my I am in LOVE with this fantastic cake.  It would be perfect for any Halloween party.
Just Us Four ~ Chalkboard Command Center.  Such a clever idea to paint the chalkboard paint right on the wall.  I think this is one of my favorite command centers ever.
Tiaras and Bowties ~ Glam Pumpkin Topiary.  These are so pretty.  I love the white, black and silver with the bling!
The Crafty Blog Stalker ~ The Start of a Smash Book.  This is such a great idea, a wonderful creative outlet for  any age.
The most viewed link this week was Weastern Warmth ~   If there was Pinterest… ,  Seriously SO funny.
Y'all are

AMAZING

  go ahead and grab yourself a Featured Button!  Face Book Features, make sure you get a button too.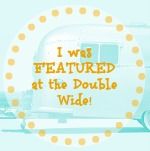 I want to see everything you have to link up! Old projects, new posts, giveaways, Etsy shops, recipes, crocheting, any and everything.  If you have more than one thing to link up, even better.  Here are the very simple rules.


1.  Please keep it family friendly.
2. Please link back or grab a button so others can share in the fun.
3.  Following would be nice. (but don't feel you have to)