I hope you all had a wonderful weekend and holiday.  We were quite lazy.  Didn't do anything, didn't go anywhere, just hung out as a family.  Played games, watched movies, and ate to much.  It was PERFECT!  I love to go away and have a vacation.  But I gotta say I adore just hangin' out with the fam!

I get to announce the winner of the Dermgist Skin Care products before we get to the party.
Watch for my e-mail girl.

Lets take a look at the Belles of the ball from last week, then get your PARTY ON!!


I love, love this recovered Ikea Chair from Mandy Made.  
Chocolate covered prezle toffee, from Couponing and Cooking, these are going on Christmas goody plates this year.  I may have to make a batch or 20 first.  Quality control, right.

These sew vintage ribbon flowers by Craftionary, are so cute.  She has a great tutorial so you can make your own.
These Crayon Wreath from Bear Rabbit Bear Crafts are so very cute!!  They would be a perfect back to school gift for a teacher.
These hair twists are so cute!  You can see why A Creative Princess figured out a way to make her own.
Our most viewed link from last weeks party was:

Creamy Pea Salad, from Love Bakes Good Cake.  Looks YUMMY to me.
Y'all are

AMAZING

  go ahead and grab yourself a Featured Button!  Face Book Features, make sure you get a button too.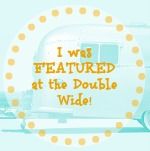 I want to see everything you have to link up! Old projects, new posts, giveaways, Etsy shops, recipes, crocheting, any and everything.  If you have more than one thing to link up, even better.  Here are the very simple rules.


1.  Please keep it family friendly.
2. Please link back or grab a button so others can share in the fun.
3.  Following would be nice. (but don't feel you have to)