It's another party day YAY!  There's lots still going on here.  The kids start back to school in a little over a week.  So we are getting all the last minute school supplies.  It's crazy how much stuff they have to take to school.  I mean really each child is going to go through 30 glue sticks, REALLY?!  They better bring home some awesome arts and craft projects.
Any way, lets get this party started.  First lets take a look a the Belles of the ball from last week.
I am in love with this Puppy Dog Lovey from Repeat Crafter me.
I love pickles, however have never made my own.  I'm going to give these 3 day pickles from Not So Super Mama.
And for something sweet What's Cooking, Love made these Individual Oreo Turtle Cheesecakes. Don't they look fantastic.
 
Projects Around the House upcycled a pair of sandals.  They look so good!
I always like to look a see who had the most licks on their link, so I though I would show you the most clicked link too.
Will Cook For Smiles, beautiful Strawberry Daiquiri Cake.  Looks so YUMMY.
If you would like to pin any of the featured projects PLEASE make sure you go to the featured blog and pin from there.  PLEASE PIN RESPONSIBLY.  Thanks!
Y'all are

AMAZING

  go ahead and grab yourself a Featured Button!  Face Book Features, make sure you get a button too.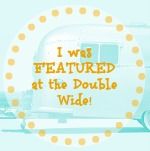 I want to see everything you have to link up! Old projects, new posts, giveaways, Etsy shops, recipes, crocheting, any and everything.  If you have more than one thing to link up, even better.  Here are the very simple rules.


1.  Please keep it family friendly.
2. Please link back or grab a button so others can share in the fun.
3.  Following would be nice. (but don't feel you have to)