I hope you are all having a lovely week so far! Things here have been kind of mellow this week.
On Monday we had a great guest post by Boocoos Blogthingy.
Tuesday I showed you the new cowl I crocheted.
And Wednesday I did a guest post over at Petals to Picots. So much fun!!
Not only do we get to party today but I get to announce the winner of the AWESOME felt quiet book giveaway! YAY!
Thanks so much to all of you who entered. Really, it means so much to me that so many of you took the time to enter the giveaway.
Last week y'all amazed me with the food you linked up this week it's all about the DIY, must be some kind of cosmic event that has everyone on the same page or something. Any hoo lets take a look at the BELLES of the ball from last week's party.
Petals to Picots made this super cute granny square purse. I know my daughter would LOVE one! She has a free pattern so we can all make one too.
Life Designed made over an old deck bench into an awesome inside bench.
Peaches and Bees made an awesome sling bookcase. I need a 10 of these around my house.
The 5th Brick House on the Right
made showed us how to hang our plates for super cheap.
Rindy Mae made over her computer nook for... wait for it..... FREE!. You gotta check out the post. I would happily sit in that nook all day blogging!
Domestic Deficit Disorder has a great tutorial for making this Manila Rope Bowl, isn't it cute!
The link with the most views was:
2 Little Superheroes showed us how to use coupons. There were some really great tips I can't wait for then next installment.
Y'all are

AMAZING

go ahead and grab yourself a Featured Button! Face Book Features, make sure you get a button too.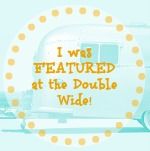 I want to see everything you have to link up! Old projects, new posts, giveaways, Etsy shops, recipes, crocheting, any and everything. If you have more than one thing to link up, even better. Here are the very simple rules.
1. Please keep it family friendly.
2. Please link back or grab a button so others can share in the fun.
3. Following would be nice. (but don't feel you have to)
4. Have fun, be inspired.
If you would like an e-mail reminder about the party let me know in the comments. Make sure you leave your e-mail address with your comment. I will happily add you to the list.
Grab a new button if you need one.