I hope you all had a wonderful Halloween last week!  We sure did.  Today we are kicking off the party fun a day early because it's Birthday central around here!  Busy, busy.  I'm so looking forward to be able to come back and see what you have all been up to.  So make sure you link something up this weekend.
Here are a few BELLES of the ball from last week.
My Life in Namibia~Crocheted Bowl Pattern
Chaos Severed Daily~Give Thanks Pallet Art
With a Blast~Giftpaper from WaxPaper
Family Home and Life~Pumpkin Pie Spice Syrup
Most Viewed Link:
Etcetorize~It's time to Spool Knit
Y'all are AMAZING  go ahead and grab yourself a Featured Button!  Face Book Features, make sure you get a button too.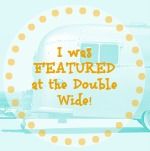 I want to see everything you have to link up! Old projects, new posts, giveaways, recipes, crocheting, any and everything.  If you have more than one thing to link up, even better.  Here are the very simple rules.
1.  Please keep it family friendly.
2. Please link back or grab a button so others can share in the fun.
3.  Following would be nice. (but don't feel you have to)
4. Have fun, be inspired. Try to visit the 2 links ahead of you.
If you would like an e-mail reminder about the party let me know in the comments. Make sure you leave your e-mail address with your comment. I will happily add you to the list.