Have all of you heard of Pick Your Plum? I have mentioned them before in different posts. I LOVE me some Pick Your Plum. I am a plum picker though and though. It is so fun to get the mail knowing that some great crafting items will be waiting for me. My kiddos love it too. Pick Your Plum always puts in a sweet treat in the form of a laughy taffy candy. My kiddos know what the packages look like now and that there is candy inside them. They get as excited as I do to see the Pick Your Plum label.
I am very excited that I have been able to become an affiliate of Pick Your Plum. I'm not being paid to write this post I just truly LOVE their products.So here is the deal with Pick Your Plum (if you don't already know). They have killer deals on awesome crafting supplies. But there's a catch, they only have one deal a day. They post the deal of the day or the Plum if you will, at 7:00am (MST) Monday-Friday. They only have so many of what ever they post so when they are gone, that's it. NO. MORE! I have a button on my sidebar showing the deal of the day you can push it anytime to find out more about Pick Your Plum. Or the button below.
Do you want to see some of what you can make with your "plums" after you have picked them? Of course you do.
I LOVE to read. JP calls me a voracious reader. This is a trait I have passed down to the kiddos. I get so excited when they pick up a book on their own and sit and read for a while. Even the ones that don't know how to read do this. So when the jumbo paper clips came up at Pick Your Plum I was all over it! I may have become slightly obsessed with them. We ALL need 10 bookmarks each. Well maybe a bought a few to many. But they make great gifts.
This is what it looks like when I start pulling out crafting stuff. Might as well get everything out at the same time, right? Yes, I am crafting on my ironing board. You all use your ironing board as a impromptu crafting table right. No, just me........ awkward,........ uhmmm, moving on.
I have a couple of projects going on. I am gluing backs on earrings and figuring out what to put on the paper clips. Everything but the glue is from Pick Your Plum. I know I have a problem.
Anywho, after you decide what you want to put on your jumbo paper clip use some E-6000 to glue it down. I used scrapbook paper (yes Pick Your Plum) for the letters. Then I put some Dimensional magic over them. (this didn't come from Pick Your Plum).
One of my favorites is to take three of the tiny flowers and glue them down.
Then put the dimensional magic around them. The other paper clip in this photo has a heart made of bakers twine under the dimensional magic. I forgot to take a finished photo of it before is was given away. But if you look closely you can make out the heart under the cloud.
After the dimensional magic dries (24 hours) they look so cool.
Here are a few of my favorites.
Thanks for stoppin' by and hangin' out.
I will be linking up to the super cool party at
Cherished Bliss
and
Johanson Journey.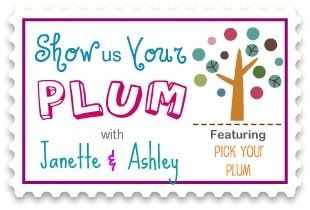 I will also be linking up to the great parties on my party page and these.