I just couldn't wait. I am so excited. I signed up to do a Valentines Day package exchange at Happy Hour Projects.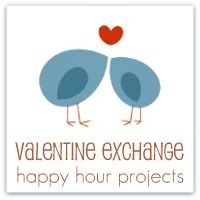 I was paired with
Sky
who has the blog Capital B. I was so excited to find out that she lives in what used to be my hometown. What are the odds? Any way my package came this weekend from Sky. Isn't it cute.
It was full of all kinds of goodies!
My favorite, I think, might have to be the apron. I LOVE aprons. Food just tastes better when you look good making it! :)
I should have taken a photo of the other side of the apron. It is the striped fabric you can see on the neck piece. That's right 2 aprons in one!
Isn't she the sweetest Valentine ever? I adore all the fabrics she chose. I have put the fabric bucket to good use, it is holding my latest crocheting project.(more on that later) Each of the kiddos picked out a notebook. There were enough left for me to put one in my purse and my church bag. The bib is perfect for little Lotte.
Oak was pretty quick to pick out his favorites, too.
Thank you so much Sky you made our entire week!
Happy Valentines Day to all of you!!
Thanks for stoppin' by and hangin' out.