This post brought to you by Bulbs. Dig, Drop, Done.. All opinions are 100% mine.
I am excited to tell you all about a fun site dig drop done.  It is a educational site all about using bulbs for your planting.  When you visit the site you will pick which woman you relate to the most.  There is Marcy, the super mom, Juliana, the fashionista, and Evelyn, the empty nester. 
Of course, I related quickly to Marcy.  As a busy mother of 3 she doesn't have a lot of time for gardening but would still like her yard and house to look nice.  Sounds familiar right.   Did you know that you can plant bulbs indoors?  I am planning an activity where all the kiddos can plant some bulbs.  So we can have some beautiful flowers blooming first thing in the spring.   I love all the inspirational photos at dig drop done and the surprisingly simple beauty of flower bulbs . Did you know that you can plant bulbs in dishes and pails,  with them all blooming beautifully?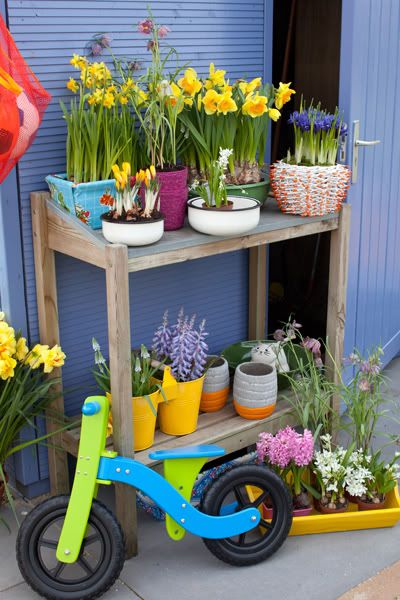 Image from dig drop done.
Dig Drop Done is also giving you the chance to have a yard make over.   All you need to do to enter is submit a photo of your yard at Curbside Chaos. The lucky winner will not only receive a $5,000 yard makeover, but they will also receive a visit from Taniya Nayak (@TaniyaNayak on Twitter) – Taniya will go through and give you tips on the best way to update your yard! She will give you creative ideas for incorporating flower bulbs into your landscape.
They are also raising money for Rebuilding Together. For every share on Twitter, "Bulbs. Dig, Drop, Done." will donate $1.00 to Rebuilding Together - the nation's leading nonprofit, working to preserve affordable homeownership and revitalize communities.
Also on Curbside Chaos there is a really great tool the, Garden Guru.  This is a really great way to teach you what you can grow and at what time of year. All you have to do is choose the country you are planting in. Then pick where you are in that country. Last you choose the type of bulbs you want to plant. Don't worry they have pictures of the flowers they turn into so you know what you are choosing.  Then it pops up with your planting guide, easy peasy.  It tells you when to plant, also the best place and soil for the bulb you chose.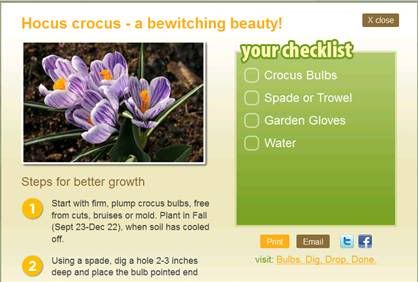 This is what my Garden Guru looked like.
The information is great.  I didn't know that you could chill your bulbs if you live in an area that has mild winters.  I am really excited to plant some bulbs inside and out.  They are truly easy enough for the kiddos to get involved. How great is that. A fun and beautiful acclivity that the kiddos can care for long term visit www.digdropdone.com to learn more