I finally finished my first crocheting project in a very long time. I learned to crochet from my mom when I was a kid. I haven't made anything besides trim around baby blankets since high school. However because it has been so hot it was easier to crochet something than try to refinish the furniture I have collected lately.
I don't know why I am so obsessed with bags lately, but I seem to be. Maybe it is because I always have to carry so much stuff everywhere!
It works well as a church bag. However I think I will use it , for now, as a crochet/yarn bag.
So I can carry my next project with me to soccer practice. The pattern came from the
Lion Brand Site
. It was FREE!
If you crochet or knit it is a great resource for great FREE patterns.
By the way for those of you who have been reading my blog for awhile, yes, this is the final photo from the
teaser post
so long ago!
Thanks for hangin' out.
Please check out my party page and visit the links there. I will be linking to most of them.
Also linking up
here
, the new Etcetorize party.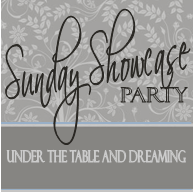 Don't forget to enter the giveaway going on now.